Hey Everyone! Happy 2015!
I'm back! Just wanting to give you a little update on what's going on in my life:
THANKFUL
for a wonderful vacation to Cape Canaveral, Florida with my husbands family. What a great way to start the year! We stayed at a resort right on the beach! The pool area was amazing! It had a giant slide and a lazy river and 3 hot tubs! I was laying by the pool in 80 degree weather listening to the new Taylor Swift album and finishing a book I started over 2 years ago- I just wanted to press the pause button on life!
REFLECTING
on the past year. 2014 was a hard year for me. Our cat Harvey went missing in August and I experienced grief like I never had before. I cried so much I felt like my tear ducts went dry. Then all year I felt like I was just barely keeping my head above water. And I feel like I accomplished that but it is really hard to constantly live like that. There was always something that I needed to do... a blog post, taking care of the house, going to work, sell on eBay or Instagram, and on and on! I feel like I did a good job balancing everything but that doesn't mean it didn't still wear me down.
That is why I took some time off the blog. Don't get me wrong, I love blogging and I intend to keep it going as long as I can. But I needed a break so I could back refreshed and give you my best! Life is just so busy. I know you know what I'm talking about! It's just good to take a breather every now and then!
WORKING
on getting our house clean and organized. Something about the new year just makes me want to start fresh! With all of the business in 2014, the think that got neglected the most is our house. So I'm taking some time to really deep clean everything and I also really want to get rid of a lot of stuff. I'm sick of the clutter! I even made a daily cleaning chart to hold me accountable! There are lots of good ones on Pinterest but it works best to customize one for yourself and your home!
APPALLED
by
Vivica A Fox talking about Shawn Johnson's monthly girl problems on national television and trying to get her sent home because of it! But lets be honest that's why we love The Apprentice- the drama is always so good! But seriously Vivica, not cool!


EXCITED that Target is teaming up with Lilly Pulitzer! The 250 piece collection comes out April 19th in Target stores! These prints and colors just make me so happy! I want everything but I will definitely be buying a fun printed shift dress!
WATCHING
Hart of Dixie on Netflix. This show is so cute it makes me want to pack up and move to Bluebell, Alabama! Rachel Bilson is my new girl crush! I'm currently half way through season 3.
THINKING
about taking all the hardware off my cabinets and spray painting it or replacing it. It's going to be a big job- which is why I'm just thinking about it!
DREAMING
of Spring, duh! I really hate winter! There are not even words to describe how much I hate winter! I get to go to Florida again with my mom to see my Grandma in 7 weeks! I can't wait!
PINNING
pictures of Spring Trends which I'm going to start blogging about very soon! Everything from wider leg jeans and a-line dresses, to palm prints and gingham! I'm so happy that the fringe trend is continuing!
WONDERING
what I should do with my hair. I've been letting it grow for a few months but now it's getting kind of awkward and I just want to cut it all off again! Probably just going to get a little trim in the back. This is what I want- I'm almost there: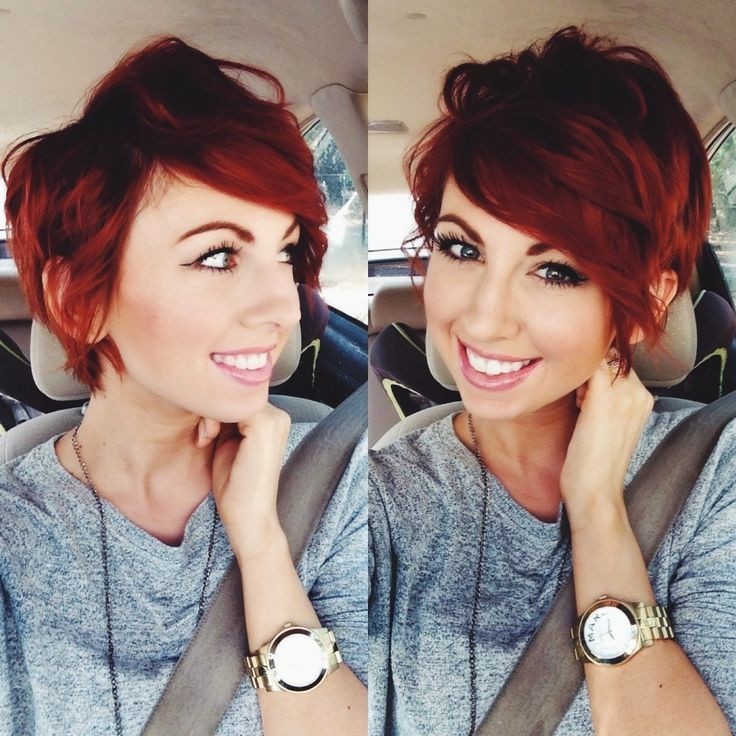 WEARING
these adorable slippers my sister-in-law Monica got me for Christmas! They are seriously as comfortable as they are cute! I love them so much it didn't even matter that m 4 year old niece told me back in November that she got me cat slippers for Christmas! LOL!
SHOPPING
for something in the color Marsala. It is the color of the year after all! I also really want a pair of mostly black tennis shoes- either Nike or New Balance- haven't decided yet. I haven't bought new gym shoes in years and I got several times per week- Yikes! A black leather jacket. I have always wanted one but never wanted to pay the price but now that everything is on sale I'm thinking it might be time!
CELEBRATING
our 14 year wedding anniversary on the 12th! My husband is taking me on a surprise getaway this weekend! I'm so excited!
What's going on with you! Tell me in the comments!
Pin It